Luxury Karjat Villas & bungalows
Welcome to the Tranquil Beauty of Villas & Bungalows, Your Perfect Getaway!
If you're seeking a peaceful and serene escape from the hustle and bustle of city life, look no further than Karjat Villa. Nestled amidst the lush greenery of the Western Ghats in Maharashtra, India, Karjat Villa offers an idyllic retreat where you can reconnect with nature, relax, and rejuvenate.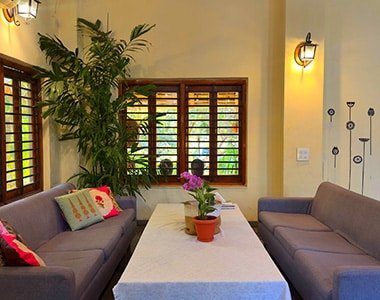 Relax in Our Villas & Bungalows
Amenities of Karjat Villas & bungalows
The villas at Karjat are designed to provide you with the utmost comfort and luxury during your stay. Offering a range of accommodation options to suit different needs, from cozy cottages to spacious bungalows, each villa is tastefully decorated and comes with modern amenities to ensure a comfortable stay. The villas are surrounded by beautifully landscaped gardens, providing a serene ambiance that is perfect for unwinding and soaking in the tranquility of nature.
If you prefer a more relaxed pace, Karjat Villa has you covered as well. The villas provide ample space to simply unwind and take in the stunning views of the surrounding hills. You can relax by the swimming pool, enjoy a book in the cozy sit-out areas, or simply take a leisurely stroll through the landscaped gardens. For those seeking wellness and rejuvenation, the villas also offer spa and wellness facilities where you can pamper yourself with soothing massages and holistic treatments.
Peace lily cottage Villa also caters to culinary enthusiasts, with an in-house restaurant that serves a range of delectable cuisines, including local Maharashtrian fare, as well as Indian and international cuisines. The restaurant uses fresh, locally sourced ingredients to prepare delicious meals that cater to different tastes and dietary preferences.
Brick Villa is a popular weekend getaway for those seeking solace in the lap of nature. The region is known for its breathtaking natural beauty, with verdant hills, gushing waterfalls, and meandering rivers, making it a haven for nature lovers and adventure enthusiasts alike.
Karjat farm house villas in a picturesque town located in the Raigad district of Maharashtra. It is known for its natural beauty, lush greenery, and serene surroundings. One of the most popular accommodation options in 2 bhk villa in Karjat with swimming pool. These villas offer a unique and luxurious experience that cannot be found in the city.
Book your villa in karjat with affordable price. Here are some of the reasons why Karjat pool
villa are so special:
Luxurious villa Amenities: villas in karjat with swimming pool are designed to provide a luxurious experience to their guests. our villa usually equipped with modern amenities such as air conditioning, hot water, Wi-Fi, and flat-screen TVs.
These amenities ensure that guests have a comfortable and enjoyable stay.
We have range of villa in karjat with swimming pool
Vila Room Category:
1 bhk villa with private pool in karjat
2 bhk villa in karjat with private pool
3 bhk villa in karjat
4 bhk villa in karjat
5 bhk villa in karjat
private villa with pool in karjat
Private Spaces bungalow for rent in karjat : bungalow for rent in karjat offer private spaces that are perfect for relaxation and rejuvenation.
Most villas have private gardens or swimming pools where guests can unwind and enjoy the beautiful surroundings bungalow in karjat with swimming pool facility. The private spaces in these bungalows provide a perfect escape from the crowds and chaos of the city. check more option on renting bungalow in karjat on rent
Stunning Views: villa in karjat with pool are usually located in scenic locations that offer stunning views of the surrounding mountains and valleys. Guests can enjoy the beauty of the surrounding landscape from the comfort of their swimming pool villa.
The stunning views add to the charm and beauty of these villa in karjat under 5000
Personalized Services: Low budget Karjat villas offer personalized services that cater to the specific needs and preferences of their guests. Guests can request for customized meals, special activities, or even a personal butler service. These personalized services make the stay in these villas even more special and memorable villa in karjat with private pool. karjat villa on rent near Mumbai, pune is best option for perfect holiday
Close to Nature: private villa in karjat are located close to nature and offer a peaceful and serene environment. Guests can enjoy the fresh air, clean water, and beautiful surroundings that are not available in the city. The proximity to nature makes the stay in these villas even more special. you can check out karjat villa price- hyperlink it with Karjat package page" villa near karjat offer a luxurious and unique experience that cannot be found in the city.
The luxurious amenities, private spaces, stunning views, personalized services, bungalow in karjat, villas in karjat are proximity to nature make these villas & bungalows truly special. If you're looking for a luxurious and beautiful getaway, then  villas are the perfect destination for you to book now